Kick Gallery
Available as Framed Prints, Photos, Wall Art and Gift Items
Choose from 2 pictures in our Kick collection for your Wall Art or Photo Gift. Popular choices include Framed Prints, Canvas Prints, Posters and Jigsaw Puzzles. All professionally made for quick delivery.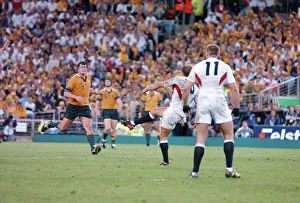 Featured Print
Jonny Wilkinson strikes the World Cup-winning drop goal
Rugby Union - The 2003 World Cup Final - England 20 Australia 17 (a.e.t.)
Jonny Wilkinson (England) strikes the injury-time, World Cup winning drop-goal.
Telstra Stadium (now Stadium Australia), Sydney, Australia.
© Colorsport
Kick, Last Gasp