Home > Images Dated > 1984 > August > 8 Aug 1984


Pictures Dated 8th August 1984
Available as Framed Prints, Photos, Wall Art and Gift Items
Choose from 2 pictures in our Pictures Dated 8th August 1984 collection for your Wall Art or Photo Gift. Popular choices include Framed Prints, Canvas Prints, Posters and Jigsaw Puzzles. All professionally made for quick delivery.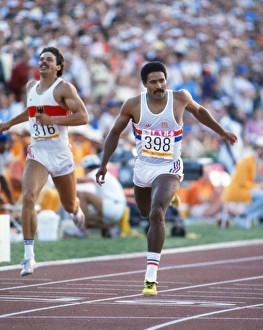 Featured 8 Aug 1984 Print
Daley Thompson and Jurgen Hingsen - 1984 Los Angeles Olympics
Athletics - 1984 Los Angeles Olympics - Men's Decathlon Day 1
Great Britain's Daley Thompson crosses the line in the 400m event ahead of West Germany's Jurgen Hingsen, left in the Los Angeles Memorial Coliseum, California, USA.
Thompson would win the gold medal and Hingsen the silver.
© Colorsport