Home > Images Dated > 2006 > September > 25 Sep 2006


Pictures Dated 25th September 2006
Available as Framed Prints, Photos, Wall Art and Gift Items
Choose from 2 pictures in our Pictures Dated 25th September 2006 collection for your Wall Art or Photo Gift. Popular choices include Framed Prints, Canvas Prints, Posters and Jigsaw Puzzles. All professionally made for quick delivery.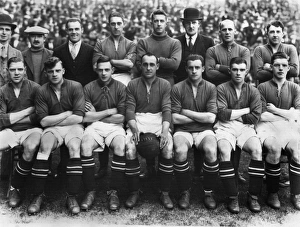 Featured 25 Sep 2006 Print
Manchester United - 1928/29
Football - 1928 / 1929 season - Manchester United Team Group
Back (left to right): Director, J. Pullar (trainer), Samuel Raymond Bennion, Bill Rawlings, Alfred Stewart, Mr. H. Bamlett (manager), Frank Drury Mann, Charles Moore.
Front: John Silcock, Joe Spence, James Hanson, John Thomas Wilson, David Rees Williams, Hugh McLenahan.
© Colorsport