Home > Images Dated > 2009 > November > 23 Nov 2009


Pictures Dated 23rd November 2009
Choose from 1 pictures in our Pictures Dated 23rd November 2009 collection for your Wall Art or Photo Gift. Popular choices include Framed Prints, Canvas Prints, Posters and Jigsaw Puzzles. All professionally made for quick delivery.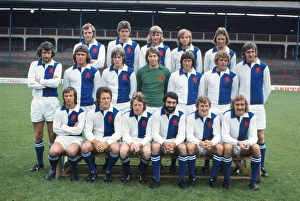 Featured 23 Nov 2009 Print
Blackburn Rovers - 1973/74
Football - 1973 / 1974 season - Blackburn Rovers Team Group
Back (left to right): Barry Endean, Donnon Martin, John Kenyon, Neil Wilkinson, Stuart Metcalf.
Middle: Chris Napier, Derek Fazackerley, Mick Wood, Roger Jones, David Turner, Terry Garbett, John O'Mara.
Front: John Price, Mick Heaton, David Bradford, Tony Field, Ben Arentoft, Tony Parkes.
© Colorsport