Home > Images Dated > 2013 > December > 17 Dec 2013


Pictures Dated 17th December 2013
Choose from 1 pictures in our Pictures Dated 17th December 2013 collection for your Wall Art or Photo Gift. Popular choices include Framed Prints, Canvas Prints, Posters and Jigsaw Puzzles. All professionally made for quick delivery.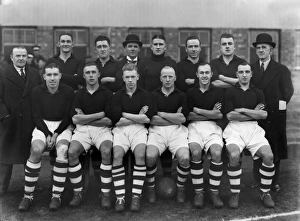 Featured 17 Dec 2013 Print
Liverpool - 1936/7
Football - 1936 / 1937 season - Liverpool team group
Back (left to right): Mr. W. H. Cartwright (Director), Nieuwenhuys, Dabbs, Mr. G. Richards (Director), Hobson, Matt Busby, Rogers, Mr. W Harrop (Chairman).
Sitting: Bush, Howe, Harry Eastham, T. Cooper (captain), Jack Balmer, A. Hanson.