Home > Images Dated > 2013 > February > 13 Feb 2013


Pictures Dated 13th February 2013
Available as Framed Prints, Photos, Wall Art and Gift Items
Choose from 1 pictures in our Pictures Dated 13th February 2013 collection for your Wall Art or Photo Gift. Popular choices include Framed Prints, Canvas Prints, Posters and Jigsaw Puzzles. All professionally made for quick delivery.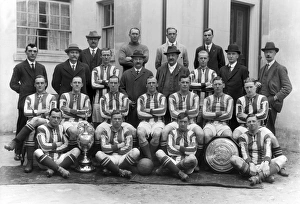 Featured 13 Feb 2013 Print
West Bromwich Albion - 1919/20 League Champions
Football - 1919 / 1920 season - West Bromwich Albion team group
The WBA team that were the 1920 Division One League Champions.
Back (left to right): Barber (trainer), Harold Pearson, Gopsill, G. Smith (assistant secretary).
Standing: Fred Everiss (Secretary), D. Nurse (Director), Arthur Cook, Mr. W. 'Billy' Bassett (Chairman), H. Keys (Director), Alan 'Claude' Jephcott, A. Seymour (Director), Major Ely (Director).
Sitting: John 'Jack' Crisp, Smith, Robert 'Bobby' McNeal, Jesse Pennington (Captain), Sidney 'Sid' Bowser, Fred Morris, Howard Gregory.
Ground: Joe Smith, (League Championship trophy), Tommy Magee, Alfred 'Alf' Bentley, (FA Charity Shield), William 'Ginger' Richardson.
© Colorsport