Home > Images Dated > 2013 > November > 21 Nov 2013


Pictures Dated 21st November 2013
Choose from 1 pictures in our Pictures Dated 21st November 2013 collection for your Wall Art or Photo Gift. Popular choices include Framed Prints, Canvas Prints, Posters and Jigsaw Puzzles. All professionally made for quick delivery.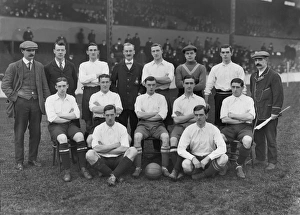 Featured 21 Nov 2013 Print
English Football League XI - 1910
Football - 1910 / 1911 season - Southern League 3 English Football League 2
The English Football League team group before the game at White Hart Lane on 14/11/1910.
Back (left to right): J. Nile (trainer), H. Thompson (linesman), J. Johnson, T. Campbell (referee), Christopher Sebastian Buckley (Arsenal), Thomas Henry 'Tommy' Lunn (Tottenham Hotspur and Wolverhampton Wanderers), Percy Mapley, C. Sutcliffe (linesman).
Sitting: Jackie 'John' Mordue (Sunderland and Arsenal), John George 'Tim' Coleman (Nottingham Forest), William 'Billy' Hibbert (Newcastle United), James Stewart (Newcastle United), George Wall (Manchester United).
Ground: Richard 'Dick' Duckworth (Manchester United), William 'Bill' Bradshaw (Blackburn Rovers).