Home > Images Dated > 2014 > December > 3 Dec 2014


Pictures Dated 3rd December 2014
Available as Framed Prints, Photos, Wall Art and Gift Items
Choose from 2 pictures in our Pictures Dated 3rd December 2014 collection for your Wall Art or Photo Gift. Popular choices include Framed Prints, Canvas Prints, Posters and Jigsaw Puzzles. All professionally made for quick delivery.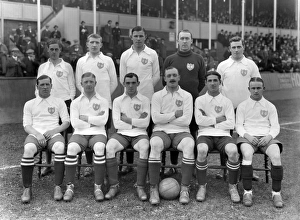 Featured 3 Dec 2014 Print
English League XI - 1914/15
Football - 1914 / 1915 Inter-League Match - English Football League XI 2 Irish Football League XI 1
The England League XI team group before kick-off at The Hawthrorns, West Bromwich, on 07/10/1914.
Back (l-r): Joe W. Bache (Aston Villa), Tom Fleetwood (Everton), Charles 'Charlie' M. Buchan (Sunderland), Hubert Pearson (West Bromwich Albion), William 'Billy' Watson (Burnley).
Front: John 'Jock' Simpson (Blackburn Rovers), Eddie Latheron (Blackburn Rovers), Irvine Boocock (Bradford City), Robert 'Bob' Crompton (Blackburn Rovers), James 'Jimmy' Harrop (Aston Villa), Sammy Brooks (Wolverhampton Wanderers).
© Colorsport